What is Microsoft AI Builder?
AI builder is Microsoft's solution for non-technical business users to deploy advanced AI capabilities in their organization. The AI models are pre-trained for common business tasks, but can also be trained for your own business needs.
AI Builder is an incredibly powerful capability that often goes utilized. Microsoft has recently improved the AI Builder capabilities available in Power Automate and Power Apps. Capabilities range from automated document processing, paperwork validation, to being able to customize and easily utilize next generation chatbots like ChatGPT in your own company.
What is the Microsoft Power Platform?
The Microsoft Power Platform includes 5 primary components that serve different purposes. The different pieces of software are designed to compliment each other and have the capability to transform the way that your company operates.
Power BI – Real-time reporting dashboards, reporting, and KPIs
Power Apps – Low code business applications development for desktop and mobile
Power Automate – Process Automation Workflows for Cloud and Desktop RPA
Power Pages – Low code business website creation
Power Virtual Agents – Custom chatbots powered by AI
The type of AI builder capabilities vary by software. The ones that have the most AI Builder capabilities will be focus of this article are Microsoft Power Apps and Microsoft Power Automate.
What is Power Automate?
Microsoft Power Automate is a Robotic Process Automation (RPA) solution from Microsoft. It is a solution that can automate many common business processes. RPA has been around for a while and is used for two different use cases.
1.) Power Automate Desktop is used to interact with a computer in the way that humans do. It's used to automate processes and complete repetitive tasks. Its often used in cases where its not possible to connect directly to a computer system and it has to be interacted with in the same way that a human would.
2.) Power Automate Flows are used to integrate different cloud software, and helps them talk to each other. A common use case is copying the attachments from an e-mail and saving it to a folder automatically.
These examples are only a couple simple use cases for this wildly useful software. It's important to keep in mind that there is a version that runs on a desktop computer, and another one that runs in the cloud.
What AI Capabilities are Available in Power Automate Flows?
AI functionality available in Power Automate Flows can be broken down into three groups.
Document Processing

These capabilities are used for things such as invoice and accounts payable automation. Validating that documents are appropriately signed. Ensuring that customer ID's are present as part of a document package.

Advanced Analytics

Machine learning and AI models can be deployed to analyze large amounts of data to predict future results. Text like product reviews can be analyzed in mass to determine sentiment.

Classic Machine Learning Models

Images can be read into the model to be classified or grouped together. Custom objects can be detected within a specific set of images or large amounts of text can be translated into different languages.
The screenshot below are the current capabilities of AI builder for Microsoft Power Automate Flows. ChatGPT and AI language models will soon be available. These capabilities can be integrated with many other Microsoft services or external services to build processing workflows that match your business.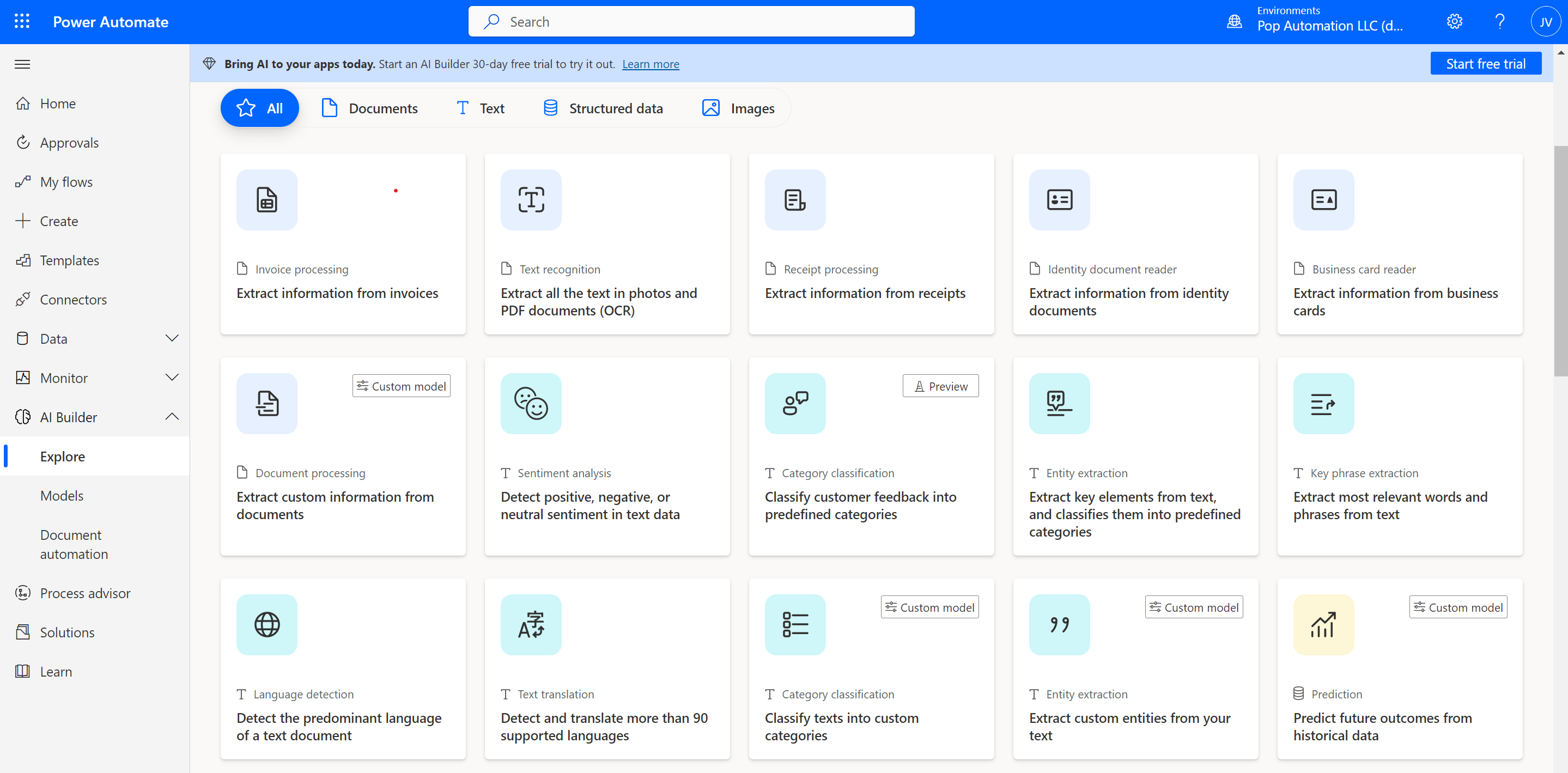 Why Would You Use AI Builder?
By being integrated into the wider Microsoft Power Platform, the service bridges the gap between data scientists and business analysts. The AI Features are considered premium features by Microsoft and have a cost associated with them. The cost is fairly inexpensive and a great starting point to bring AI technology into your company without spending hundreds of thousands of dollars on advanced software and people with the technical skills to operate it.
Companies around the world are racing to take advantage of Artificial Intelligence in the workplace. Unfortunately, it can not only be cost prohibitive to implement but it can take a specialized skillset to manage. Data Scientists and people familiar with AI and Machine Learning models are very difficult for companies to find and even if they do find them, they can be incredibly expensive as job market demand outpaces the number of people available with the skillset.
AI Builder fixes both of these problems by giving companies a drag and drop method to create AI workflows and enable advanced automation and analytics techniques without needing the technical skillset that would normally be involved in setting things up.
How Difficult is AI Builder to Setup?
Businesses looking to explore more advanced AI and automation processes would be well served by using AI builder. There's a minimal monetary commitment, and the solutions are fairly easy to use compared to most AI deployments.
Using the models still takes some time and effort to setup. You will need to setup a workflow to get data into the AI model, and format the output. The AI models themselves are pre-trained. If those don't work, it's relatively easy to create your own custom models without data science skills.
What are the drawbacks to AI Automation?
If you talk to software sales reps, they often omit or will mitigate the fact that no AI solution will process documents 100% correctly. The systems are designed to assign a confidence score of how well the analyzed document matches a pattern or how well it thinks the data is extracted.
The impact of automation is not the complete elimination of a department. It changes the job roles of those interacting with AI from doing the processing themselves manually to managing the exceptions that the AI model routes for further review.
Most AI automation systems will be able to divert 60% – 75% of the documents being processed. The percentage of automation will vary greatly depending on how variable the input data is. If you have standard formats of documents that don't change, the rate will be higher. If your business continuously onboards new vendors, someone will have to initially train an AI model on what the vendor's invoices look like.
Who is Microsoft AI Builder For?
AI Builder is targeted at Small and Medium sized businesses that have a moderate volume of transactions that they need to process. Whether that is form recognition for accounts payable invoice automation or having a double-check that forms were actually signed when they were submitted, AI Builder can help with these.
The service itself is capable of handling very high volumes of data, but we think that it could become cost prohibitive to pass hundreds of thousands of documents through it in a regular basis. Microsoft offers similar services through their Azure cloud services which require computer programming skills to integrate with enterprise solutions, but have a lower cost per processing transaction.
What Does AI Builder Cost?
Microsoft charges for the use of AI builder as a premium feature. The exact pricing varies by the AI model being used. For example, when using document processing capabilities Microsoft will charge by the number of pages being converted.
The pricing model is similar if you use Microsoft's Azure AI capabilities. Because Azure AI services are more difficult to use, they are often less expensive but require advanced technical knowledge to integrate with other platforms. The models are the same but think of Azure AI services as once you would buy wholesale, and AI Builder are packaged for retail use.
Should Your Company Deploy AI Builder?
As with all answers, it depends. We see it as a great entry point for companies that don't have a lot of technical resources available but still want to embrace the capabilities that AI brings. If a company is at the scale where they have computer programmers on staff then there are other solutions which will give them a lower cost per unit for processing.
Small and Mid-sized companies would be well served by the capabilities that AI builder offers. It's a good entry point, and can help organization begin preparing internally for a future of more highly automated tasks without having to hire specialized staff and make a large upfront investment.
Microsoft AI Builder has so many different use cases and modules it allows a business to start small and incrementally add new capabilities to their processing flows. The incremental method of implementation is recommended because there will always be some hiccups to introducing new processes, and even if the technology works flawlessly, it takes time for people to wrap their minds around a new way of working.